Welcome to my gallery and thanks for stopping to see my work.
The watercolors shown in the gallery, were painted on papers for Artists, acid-free to be preserved over time.
The colors used are of the highest quality, for Artists, for the higher lightfastness.
For any information, and to purchase, please contact me at

All watercolor paintings shown in www.ritavaselli.com, were made by Rita Vaselli, and licensed under a Creative Commons Attribution-NonCommercial-NoDerivs 3.0 Unported License.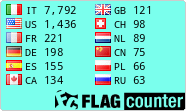 Gli acquerelli esposti nella Galleria sono stati dipinti su carte per Artisti, prive di acido, per essere conservati nel tempo.
I colori utilizzati sono della massima qualità, per Artisti, per la massima resistenza alla luce.
Per ogni informazione, e per acquistare, contattatemi all'indirizzo